The project
Sam Brabender, a leader, coach, and entrepreneur, approached us to revamp her branding and create a new website to reflect her brand.
Design process: During the discovery phase, we closely collaborated with Sam Brabender to understand her target market and how she wanted to position herself as a leader. We conducted comprehensive research on local competitors and analyzed industry-leading websites. Using a user-centered approach, we utilized wireframes and prototypes to validate design decisions. Once approved, we built the website, ensuring a clear understanding of the design and functionality requirements.
Solution: Based on the discovery phase, we gained a deeper understanding of Sam's positioning, leadership strengths, and active presence on various social channels. The website design focused on Sam herself, as she is the face of her brand. We crafted an engaging and friendly website that properly projected Sam's visual brand by incorporating her love for sunflowers and strong blues and yellows. We added a social wall to showcase Sam's activity on other channels, allowing users who landed on her website from her social channels to connect with her on various platforms.
Results: The website's simple design, complemented by powerful photography and Sam's messaging, had a significant impact. Integrating social channels into the website helped connect Sam's audience to her other platforms, and new visitors could see her active presence on social media.
Conclusion: Designing a personal brand requires a different approach compared to corporate branding. In Sam's case, she was the brand, and the website design needed to closely integrate the foundational visual branding work we previously developed and be a reflection of Sam herself.
Our involvement
User experience design (UX)
User interface design (UI)
Development in WordPress
Desktop version of website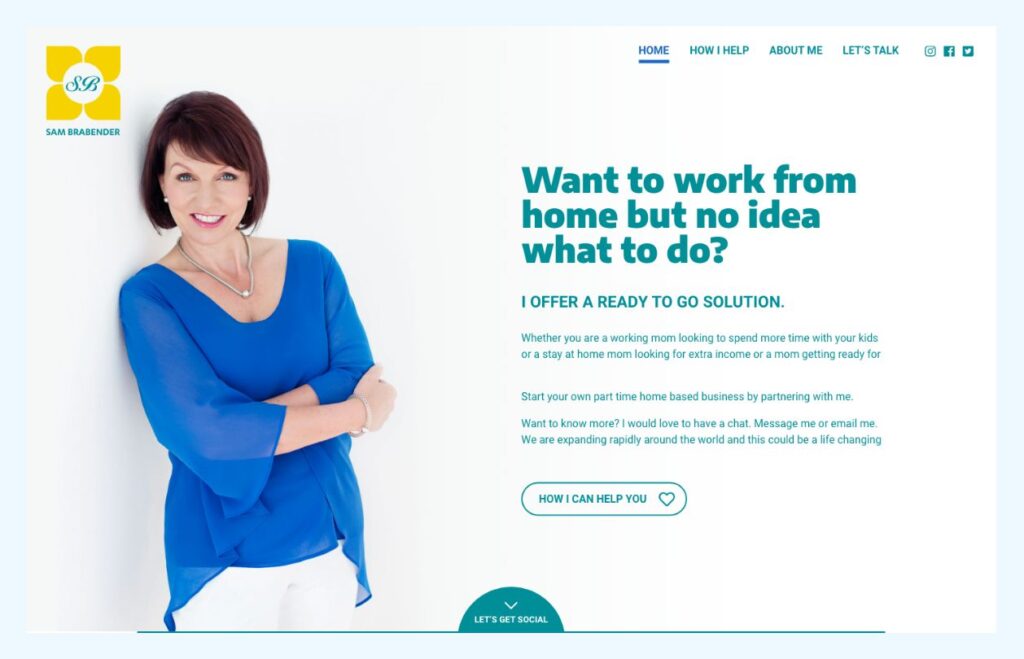 Mobile version of website