The project
Peak Pharma engaged our services to assist with the design, content creation, and development of their website. We collaborated with WSI, who worked on the marketing strategy and played a crucial role during the project's discovery phase.
Design process: During the discovery phase, we worked closely with WSI to accurately identify Peak Pharma's target clients and establish their position within the industry. We conducted comprehensive research on competitors in the geographic area and analyzed industry-leading websites. Our design process followed a user-centered approach, utilizing wireframes and prototypes to validate design decisions. Once approved, we proceeded to build the website, ensuring a clear understanding of both the design and functionality requirements.
Solution: The Peak Pharma brand employed a mountain climbing metaphor prominently incorporated into the website through the main video, hero photography, and iconography, complemented by industry-specific supporting imagery. The website copy was tailored to the target audience, focusing on conveying the narrative of Peak Pharma, their unique positioning, and how they can best assist their clients. The website was designed to be easily updated by both WSI and Peak Pharma, allowing job postings, text updates, and adjustments to support their marketing efforts.
Results: The website serves as a central component of Peak Pharma's marketing strategy, implemented by WSI. The strong visual design, coupled with compelling copy, differentiates them from their competitors and provides them with a competitive advantage within the industry.
Conclusion: Maintaining direct collaboration with WSI throughout the design and development process was crucial to ensure alignment with the marketing strategy. This approach prevented setbacks and allowed us to integrate the design and messaging seamlessly to support Peak Pharma's overall marketing goals.
Our involvement
User experience design (UX)
User interface design (UI)
Content writing
Development in WordPress Gutenberg
We worked with
Desktop version of website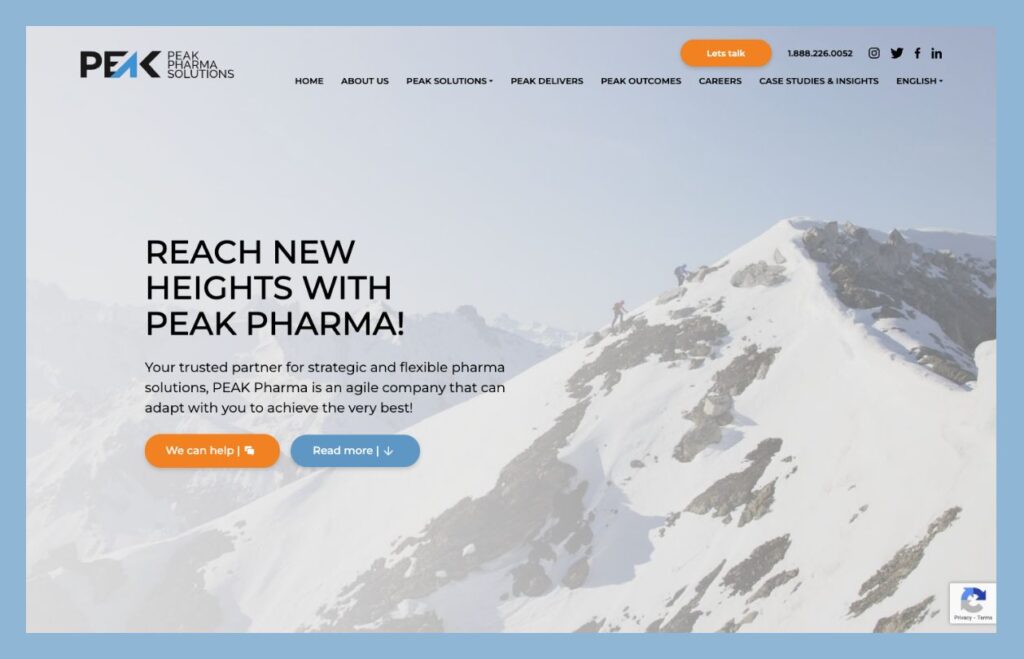 Mobile version of website