The project
H1 Safety Services approached us to design and build a website for their new product, Proteng, a fire-prevention device that offers a unique solution without needing power or complex mechanical systems. The goal was to create a website that effectively communicated the benefits of Proteng to their target audience in the Canadian market.
Design process: During the discovery phase, we closely collaborated with H1 Safety Services to accurately identify their target clients and establish their position within the industry. In-depth research was conducted on other fire-prevention products and analysis of industry-leading websites. Following a user-centered approach, we utilized wireframes and prototypes to validate design decisions. Once the design was approved, we built the website, ensuring a clear understanding of the design and functionality requirements.
Solution: During the discovery phase, it was determined that the most effective approach would be highlighting the tragedies Proteng could help prevent in situations where the product was most suitable. To convey this message, we purposely selected aggressive and visually jarring photography emphasizing the importance of Proteng's protection. This approach aimed to differentiate Proteng from its competitors and make a lasting impact on visitors to the website.
Results: The website was central to H1 Safety Services' marketing efforts for Proteng. By visually differentiating themselves from their competitors through powerful and impactful photography, the website effectively communicated the value and importance of Proteng in preventing catastrophic incidents. The website served as a powerful tool in conveying the significance of the product to potential customers.
Conclusion: Through our collaboration with H1 Safety Services, we successfully designed and developed a website that effectively showcased Proteng's unique fire-prevention capabilities. The use of powerful imagery helped to highlight the potential tragedies Proteng could prevent, leaving a lasting impression on visitors to the website.
Our involvement
User experience design (UX)
User interface design (UI)
Development in WordPress
Desktop version of website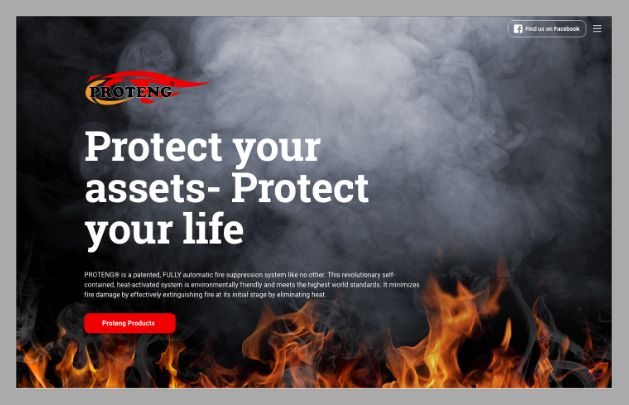 Mobile version of website