The project
Three Point Turn enlisted our services to design the user experience and user interface for the NaviGo Programs application and dashboard by NaviPro. This app aimed to connect patients with Physicians/HCPs and facilitate the tracking and reinforcement of treatment adherence.
Design process: During the discovery phase, we engaged in extensive conversations with Three Point Turn and NaviPro to gain a comprehensive understanding of the business objectives and the challenges faced by Physicians and patients. This allowed us to adopt a user-centered design approach, creating wireframes and prototypes to validate design decisions.
Solution: The application was designed to provide patients with an intuitive interface where they could easily view their upcoming appointments, track the arrival of their drug shipments, and log their treatments. The application also included timely alerts to keep patients informed. On the other hand, Physicians were provided with a dashboard that displayed important information about their patients, including their adherence to the treatment regimen.
Results: Three Point Turn implemented our approved user interface screens and built the application and dashboard to be populated with live data. The result was a functional and user-friendly solution.
Conclusion: By thoroughly understanding the challenges faced by Physicians and patients, we were able to carefully plan and design an application and dashboard that prioritized user-friendliness and aimed to reinforce adherence to treatment regimes. The NaviPro Programs app and dashboard served as valuable tools in connecting patients with Physicians and enhancing overall treatment outcomes.
Our involvement
User experience design (UX)
User interface design (UI)
We worked with
Three Point Turn
Phone App Design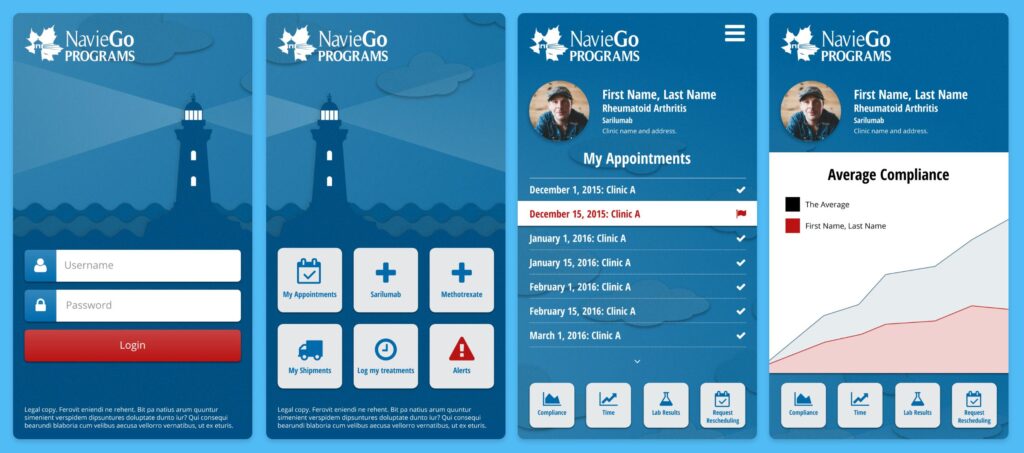 Dashboard App Design